Siding
Turco Roofing not only can repair or replace your roof, gutters, windows and sheetrock, but we replace siding as well. Whether it is due to storm damage, age, or for any other reason, we are your one-stop-shop
contractor. Listed below are some signs that your siding needs replacing:

Peeling or Chipping
Missing or Loose siding
Small Openings
Bubbles
Small openings can lead to insects, small animals and moisture into the outer walls of your home which can cause structural damage. Moisture can lead to mold and health issues. Not to mention your heating and cooling bill will more then likely increase.
Peeling or chipping is more aesthetic then structural, but is indeed something that needs to be addressed, while bubbles are a sign that your siding has been damaged.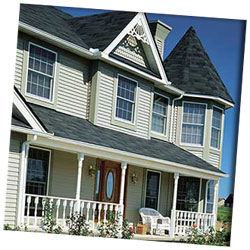 If you are considering replacing your siding whether it is due to storm damage or for any other reason, you should know that there are many attractive siding choices. Many of those can stand the test of time in appearance and withstand bad weather. Listed below are some of the choices available through
Turco Roofing:

Vinyl Siding
Aluminum Siding
Call us today for a free inspection at 478-845-2419 or fill out our Request a Free Inspection form.